How to Grow Your Discord Server from Day 1
If you're reading this, then you're probably interested in starting your own Discord server. Maybe you're a gamer looking for a server to connect with like-minded people, or maybe you're a content creator looking for a place to build a community around your work. Whatever your reasons, starting a Discord server can be a great way to connect with people who share your interests.
But starting a server is only half the battle. The next step is to start getting members in your server from day one. And that can be a challenge, especially if you're starting from scratch.
A Discord server can be a great way to connect with friends and like-minded people, but it can be difficult to get started. In this article, we'll give you some tips on how to get members in your Discord server from day one.
Creating a Discord server is easy, but getting people to join can be difficult. In this article, we'll give you some tips and strategies on how to get members in your Discord server from day one. Keep reading to learn more!

PRO TIP: It's always a good idea to keep an eye on your Server Insights to see where new members are going and what's working well for your new member onboarding.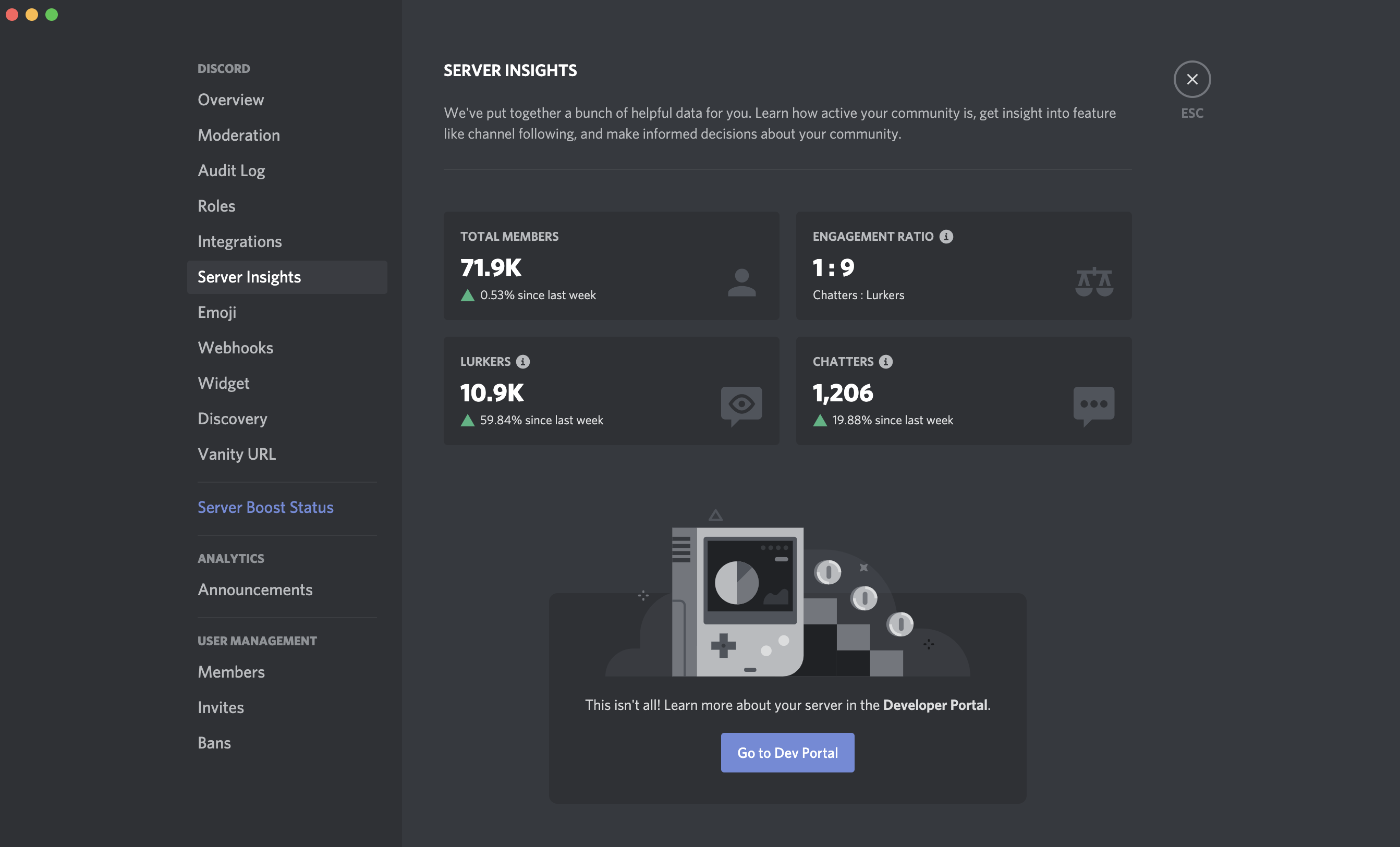 ---
Catchy Server Title and Branding
Having a catchy server name can help you grab users. Make sure your niche and your server name is related. Also making a custom branding like logos and a color scheme for banners can enhance the visuals of your server and make it more professional
An extremely long server name is not advisable, so make sure your server title is easy to remember and sounds professional.
Get Engaged With Your Server's Members
Keep your members interested in the conversation by starting new ones, participating in existing ones, and generally fostering a fantastic community if you want to create a nice vibe.
This can be accomplished by posing queries, responding to messages, and generally encouraging members to participate in discussions. Additionally, you might format messages to make them stand out during talks by adding attractive text or content that has been structured.
Host Events
In your server's voice channels, you might also organise regular gatherings for members to talk about the latest news. These gatherings may be held every week (or every day, if you'd like!).
Another approach is to have a music bot where users can ask for specific songs to be played in the voice channel. This may be a great way to develop a feeling of community and encourage engagement, and it's also a lot of fun. Your server will inevitably grow in size as a result of holding events since participants may want to invite their friends to participate, among other things.
You can choose the following Music bots:
FredBoat
Hydra
Chill Bot (great for lofi songs and event)
You can learn more about bots from the next tip.
Use Bots
Bots are fantastic for starting everything off! You may use a wide range of entertainment bots to do things like watch YouTube videos, ask for music, make polls, and much more. And with the new App Directory, you can explore and have fun with bots.
Overall, bots can help automate a lot of the tedious activities associated with running a server or reacting to messages.
It's Time To Monetize Your Community!
Making money off of your Discord group can be as simple as charging members for special access. Many people would be prepared to pay for access to private discussions with select individuals about the subject of your Discord channel as well as priority help.
Fortunately, there are excellent membership access services for Discord currently available, like as Whop, which has a tonne of simple and advanced options to put up the membership page your business requires. Whop provides incredible features including a free trial period, event logging, secure payments via Stripe or any Crypto wallet, membership types, analytics, conversions, different tiers, visibility, stock, and a tonne more. It is absolutely free to use and just takes roughly a 3% cut.
Here's a previous article that will help you achieve that:
There are multiple ways to monetize a Discord server and community. Here's more information on that:
Advertising
This is a fantastic method for growing the user base of your Discord server. Your member count will rise with the help of a website like Disboard. Disboard also gives owners of Discord servers access to a whole new range of tools for server expansion and wonderful features.
Best Discord Server listing websites
Disboard
Disforge
Top.gg
Discord Street
Discord Servers.com
In order to advertise your server on listings, make sure to have a description of your server that describes the benefits of joining your server. You'll also need some visuals of your server's logo and so forth.
Additionally, you'll meet new people and engage in new activities in the communities of gaming, programming, music, anime, and more.
There's no magic bullet when it comes to getting members in your Discord server. However, by following the tips and tricks in this article, you'll be well on your way to growing a vibrant and active community. So don't give up and keep pushing forward - your dream server is just around the corner!
That's all for today, hope you enjoyed today's article. Make sure to join our official Discord server to discuss further on this topic or suggest new articles!
Like what you're reading?
We do this everyday. Unlock exclusive benefits, 4K wallpapers, and more. Become a member for the price of a coffee.